Real estate duo Tal and Oren Alexander have catered to really rich clients and the merely wealthy.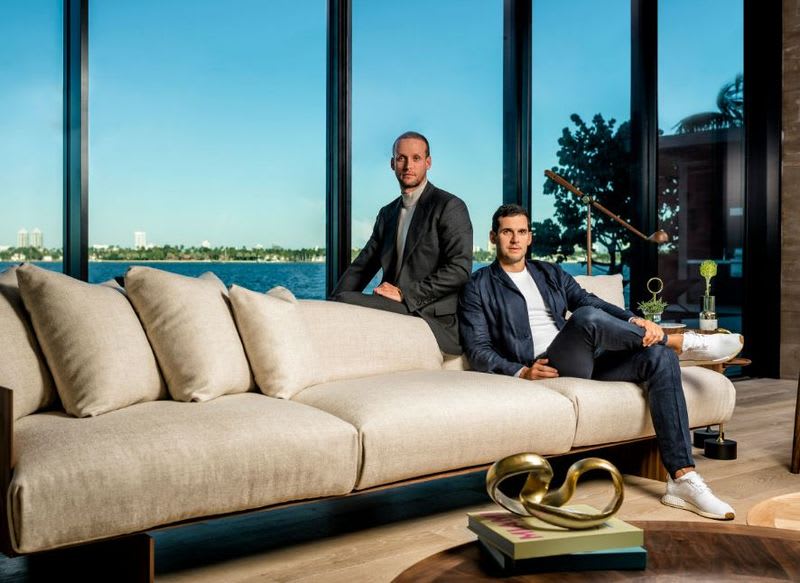 Tal and Oren AlexanderSource: Official
They've decided really rich is better.
After a more than decade-long run at Douglas Elliman Real Estate, where the brothers began brokering megadeals in their 20s, they've struck out on their own.
"We're the 0.1% of brokers that really sell to the 0.1% of clients," Oren Alexander, 35, said in an interview from St. Tropez, France, where he'd traveled with his 36-year-old brother, Tal.
Fixtures on the high-end real-estate scene in Manhattan and Miami, the Alexanders have spent part of the past few weeks traveling to drum up even more business. St. Tropez, Mykonos, Capri, yachts, parties: Such is life in the rarefied realms of real estate.
The Alexanders' new venture, Official, is coming together at a time when questions loom over the state of global housing, war rages in Ukraine and recession fears are mounting. The once hyper-frenzied luxury part of the real estate market has started to slow. But the pair is betting that the upper echelon of buyers will stick around.
"What we realized is that the brokerage, not just the one that we were at but all brokerages, they're set up to take care of too many different segments of the market," said Oren Alexander, who counts Miami Beach as his current home. "We understand our buyer, our seller, what they want from a brokerage and ultimately where they're looking to transact."
The Alexander team was among Elliman's top sellers of trophy properties and new developments. On the strength of the post-lockdown market, it notched roughly $1.7 billion in sales last year and was inducted with two other teams into the brokerage's new "Billion Dollar Club." The brothers have also represented clients including Jared Kushner and Ivanka Trump and the Faena House Miami Beach, a development from Len Blavatnik's Access Industries.
At the same time, the brothers flaunt their lavish lifestyles on social media, garnering tens of thousands of followers and showcasing trips such as a helicopter ride to breakfast in the Alps and a party in front of the pyramids in Egypt. Their jet-setting lifestyle has continued as they set up the new venture, which will have to now compete with other billion-dollar teams that have chosen to stay at Elliman and other brokerages that also count the wealthiest among their clients including Corcoran Group, Sotheby's International Realty and newcomer Serhant.
Luxury Sales
The Alexanders acknowledged this year's broader real estate slowdown as interest rates rose and recession fears grew. Higher mortgage rates are forcing more buyers to the sidelines, a fact that's even led Manhattan's market to
pull back
from its frenzied pace of the past year.
But the ultra-luxury market has held up slightly better, in part because of buyers' reliance on paying cash for deals. Some of the wealthiest are still looking to take advantage of relatively robust appetites for housing, with British entrepreneur Nick Candy recently listing his Art Deco mansion in Los Angeles for $85 million and his brother Christian Candy selling a luxury estate outside of London for 125 million pounds ($152 million). Larry Ellison, the billionaire co-founder of Oracle Corp., closed on a $173 million oceanfront property in Palm Beach County earlier this year, setting a record for a residential sale in Florida.
Oren Alexander said sales are better than in average years and he is expecting transactions to continue at a steady clip.
"Some of the more commoditized products are going to get hurt," Oren Alexander said. "For us, it was important to separate ourselves from a brokerage that focuses on such a wide spread of the product."
While Elliman offers listings across a broader price range than Official's target market, Elliman's focus is on luxury homes in high-end areas. The richest buyers often deal in cash, which could help the company weather the impact of rising mortgage rates.
A raft of Elliman veterans has joined the Alexanders at Official. Most of the agents on their team, including Miami's Isaac Lustgarten and Sara Goldfarb in the Hamptons, were invited to join the new brokerage. Richard Jordan, who has worked as head of global markets at Elliman, is the brokerage's new chief executive officer and Andrew Wachtfogel, who led Elliman's research team, joined as Official's president of new development and chief analyst. Jordan, Wachtfogel, and Nicole Oge, who also previously worked at Elliman, are co-founders at Official and will focus on the brokerage's business and growth.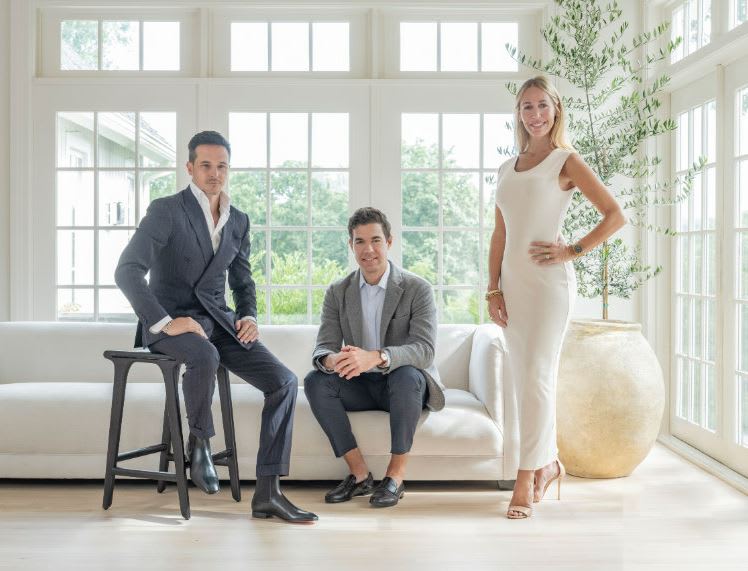 Richard Jordan, Andrew Wachtfogel, Nicole OgeSource: Official
The brokerage, which is already operating in New York, Miami, and the Hamptons, plans to expand to Palm Beach and Aspen by the end of the year. The team is initially seeking agents in other top US markets but later intends to branch out with strategic partnerships in markets such as London and the Middle East.
"Today and at this segment of the market and these price points, there are no more boundaries," said Jordan. "You know, I have sat and met with clients in Singapore, who have homes in London, New York, considering Florida or Switzerland.
"The Alexanders have already secured some big listings. At 432 Park Avenue — where Tal lives — they've taken over the marketing of the 96th-floor penthouse that Ryan Serhant had priced at $169 million last year. The new asking price is available upon request for the 8,255-square-foot (767-square-meter) home that's owned by billionaire Saudi developer Fawaz Alhokair.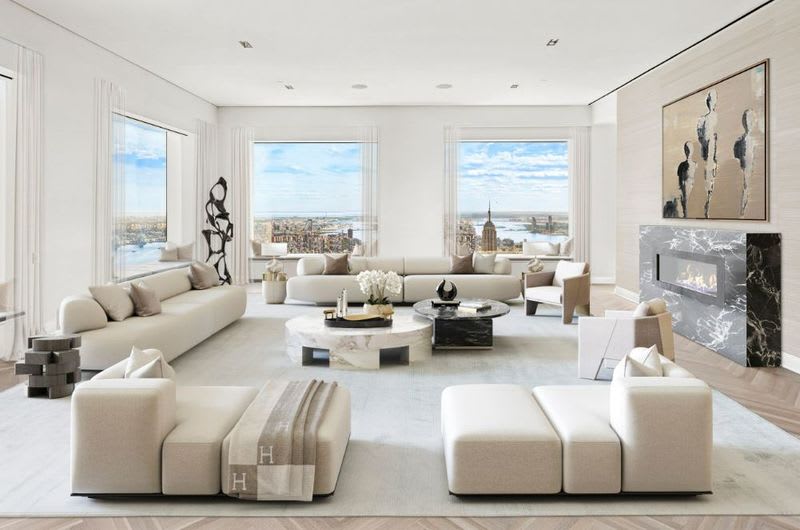 The listing is at 432 Park Ave. in New York City. Source: Barion Design
The official also
has
the $135 million listing of 281 Park Avenue South, the commercial building at the corner of 22nd Street that alleged scammer Anna Sorokin, known by her alias Anna Delvey, told potential investors would be the home of the social club she sought to open.
Raised in Miami, the brothers watched their father, an Israeli immigrant, build a luxury construction and development business. The pair moved to New York after college to begin their own real estate careers, with Oren starting at Elliman in 2008 and Tal joining later. Keeping up a busy schedule of parties and travel helped them cultivate clients, just as the residential market began digging out of the financial crisis and tech and finance industries began minting more billionaires.
The pair hasn't shied away from heralding their record-setting deals in the press and on social media, although they say they're careful not to disclose the names of their clients who want discretion.
The brothers' departure from Elliman has spurred speculation about why they would leave the brokerage that built their careers. The Alexanders and their executive team said Elliman tried to get the pair to stay, given that their team was responsible for 3.3% of the brokerage's $51 billion in 2021 sales.
"Why would the top, the number one team for the last three years in a row, probably in the prime of their career, be forced out of a firm? That doesn't make any sense to me," Tal Alexander said on the call from St. Tropez with his brother.
An Elliman spokesperson said the company wishes the Alexanders well in their new endeavor.
Starting New
The Alexanders and their co-founders had considered seeking investors but ultimately turned to Side, a white-label real estate technology company, to provide the firm's back-end systems. Side generally gets 10% of those agents' commissions, but Official is its own brokerage, paying an annual fee to Side and free to walk away at any time.
"We pay them the same way that we would pay for Salesforce, or we would pay for LinkedIn Pro, or we would pay for Slack," said Oge, Official's president, and the chief brand officer who led Elliman's marketing operations from 2014 to 2016.
The Alexanders aren't the only younger real estate agents who've built a brand on the strength of their presence in the press and on social media and left behind a traditional brokerage to found their own firm. After nearly a decade of appearing on Bravo's "Million Dollar Listing New York," Ryan Serhant, 38, departed Nest Seekers International in 2020 to launch his self-named New York and South Florida brokerage.
Oge said she and the Alexanders were already planning the firm that became Official when the pandemic hit. As residential sales boomed, the Alexanders and their team were able to capitalize in a way that validated their theory that they were ready to go out on their own.
"You're not going into the office, you're not using the tools and systems, you're probably not leaning on a lot of the resources provided to you," she said. "But still, despite all of that, the business thrived."