Picture this: Waking up to the gentle rustling of palm trees, with the azure waters of the Atlantic Ocean as your backdrop. You step onto your private balcony, taking in the breathtaking views of lush green fairways, perfectly manicured greens, and the glistening South Florida sun. What better way to enjoy the upcoming LIV Golf Team Championship at the iconic Trump National Doral?
As a passionate golfer of nearly 12 years and a luxury real estate agent for the named #1 team in The Nation 4 years in a row by Real Trends & Tom Ferry The Thousand —deeply embedded in the vibrant world of South Florida's deluxe properties—I am delighted to present to you my exclusive selection of luxury residences nestled near South Florida's premier golf courses.
A Golfer's Paradise
One of the key components that make South Florida a prime destination is the exceptional lifestyle that the region provides to its residents and visitors. Golf, in particular, plays a pivotal role in this lifestyle. With year-round playability and a plethora of world-class courses, it's no wonder that golf is a major draw. Homes situated along these golf courses hold a premium value compared to their non-golf front counterparts, making them irresistible to those looking for the epitome of luxury living.
South Florida's Elite Golf Courses: A Glimpse into Luxury
In curating my exclusive list of luxury residences, I've paid particular attention to the elite golf courses that define South Florida's golfing landscape. Allow me to highlight a few that have caught my eye:
Indian Creek Country Club: Known as America's "Billionaire Bunker", Indian Creek Island hosts one of the most exclusive and secure communities in America. The Indian Creek Country Club course dates back to the 1930s and has been extensively renovated and expanded in 2022. Very few people will have the pleasure of teeing it up in this perfectly groomed course designed by William S. Flynn, as admission is mostly limited to members that pass a thorough vetting process and those fortunate enough to own one of the island's estimated 35 premium residences.
Miami Beach Golf Club: Originally the Bayshore Golf Course designed by Carl Fisher, this 1920s golf course has had a long and significant history within the community. In 1944, distraught neighbors fought to keep the course from being turned into real estate. Almost fifty years later, Bayshore became the Miami Beach Golf Club after major renovations that brought new life to the greens. Today, this beautiful landmark hosts one of the most important amateur events in the world.
Shell Bay: The recently inaugurated Shell Bay in Hollywood is poised to be the first private golf club introduced to South Florida in decades. Course designer Greg Norman says it is "one of the most unique, pure golf experiences I have ever designed". The walkable layout is completely isolated to give golfers a completely immersive experience. An exceptional oasis of luxury, it is already attracting an elite clientele to its world-class membership program and residences.
Luxury Residences: One Foot on the Green
As a seasoned luxury real estate agent, if you were to ask me about my utmost favorite properties with prime accessibility to a golf course, these are the magnificent residences that truly stand out to me.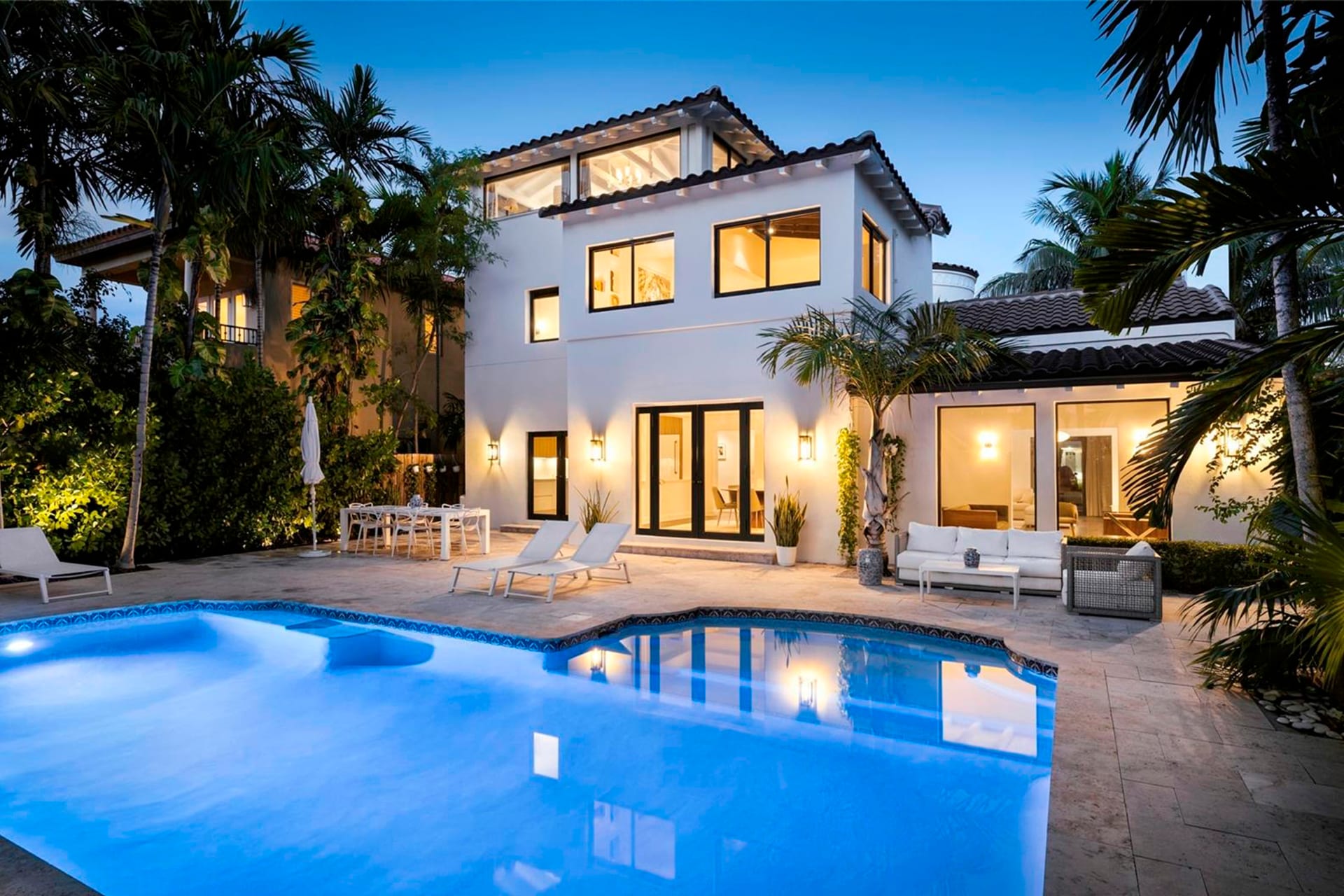 5736 La Gorce Dr, Miami Beach: This Mediterranean-style on the Eastside of La Gorce Country Club is a rare find. A renowned Parisian artist delicately redesigned this elegant home to be a perfect blend of contemporary design and classic sophistication. Aside from 4 beds, 6 baths, and multiple living spaces, this gated property boasts stunning views from three levels, perfect for entertaining.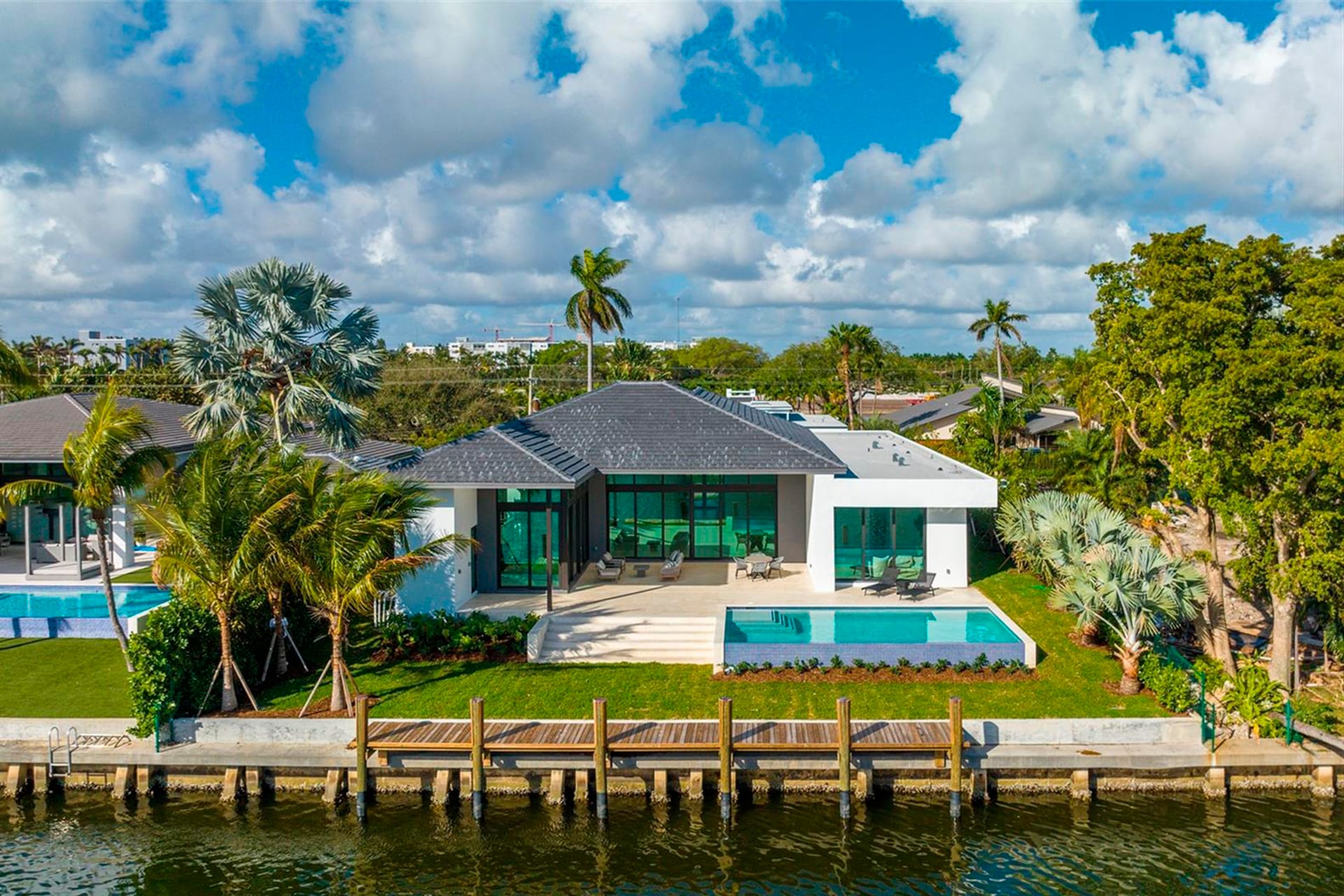 1635 Diplomat Pkwy: Carefully placed on an 88.5 ft waterfront property, this modern ranch home is perfect not only for a family but for individual use as well. With an open floor plan and floor-to-ceiling glass windows all through its single story, this is a quiet oasis for golfers looking to be near the upcoming Shell Bay golf course, which promises to redefine luxury living and golfing in South Florida.
12 Indian Creek Island: A picture of European glamour, this 7-bedroom, 14-bathroom, 19,064 ft² opulent residence was the only available home on the exclusive "Billionaire Bunker." Recently sold, the palatial 2-acre grounds with perfectly manicured lawns and elegant light-filled interiors only serve to highlight the royal lifestyle that only a select few will be lucky enough to experience at one of the country's most exclusive golf clubs.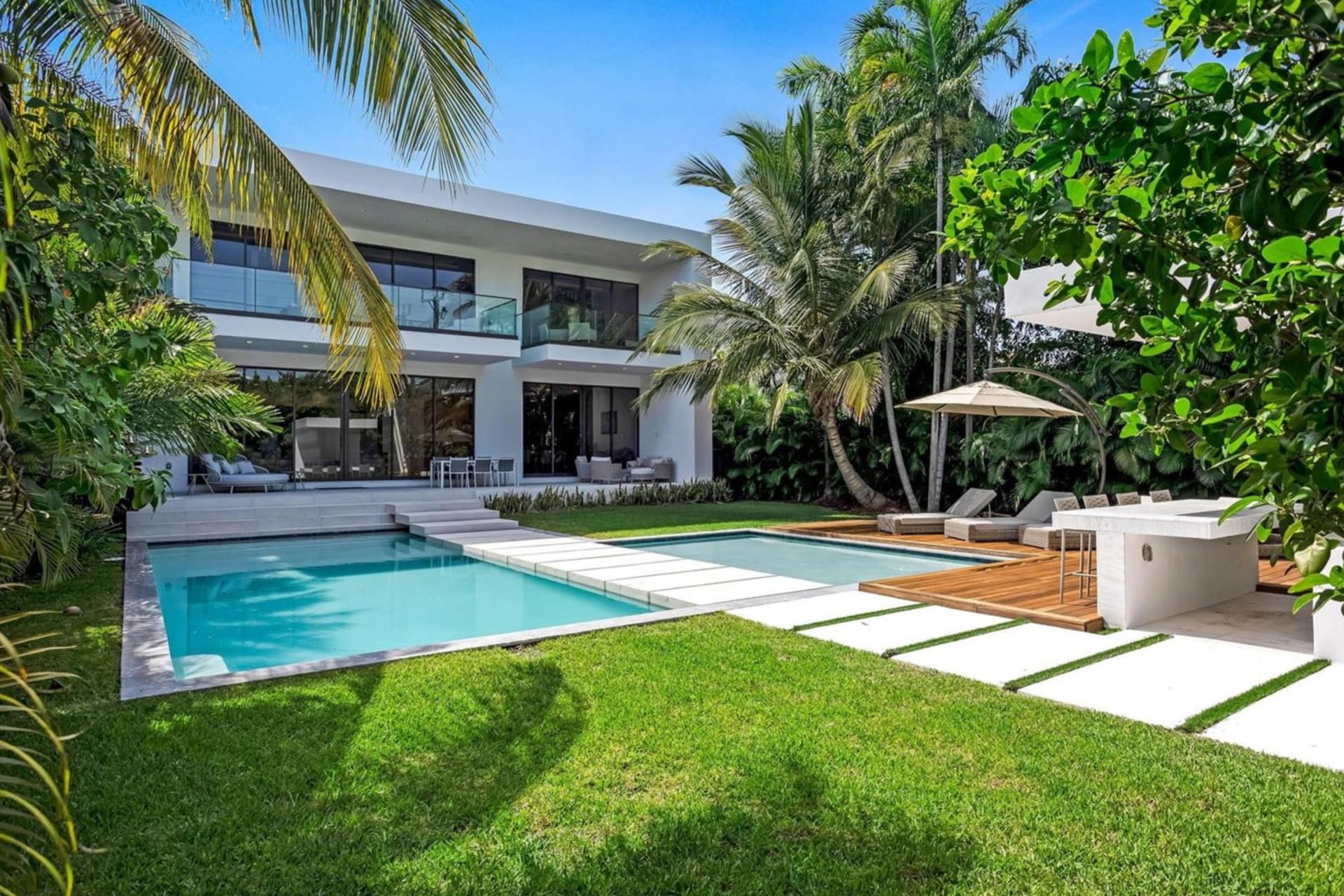 2211 Meridian Ave, Miami Beach: Aside from soaring ceilings with glass doors that let in incredible natural light, generous bedrooms, and a seamless indoor/outdoor living space, what really makes this property so valuable are the gorgeous sunset views that can be enjoyed from an expansive private rooftop deck that overlooks the 13th hole of the Miami Beach Golf Course. This brand new 4,680 ft² modern villa is perfect for entertaining and enjoying a peaceful sunset over the green.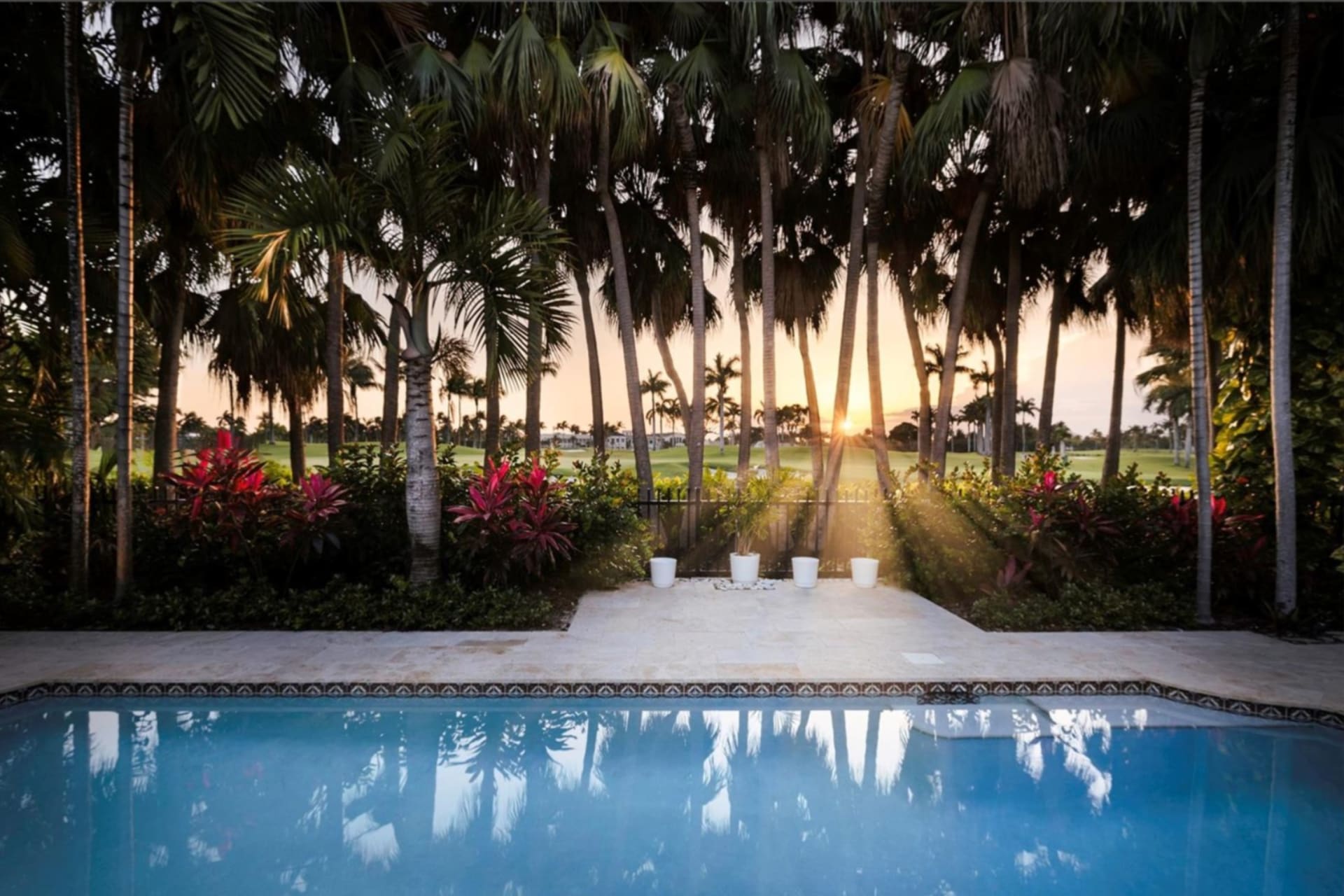 Enhancing Lifestyle through Elite Golf Courses
Living near these elite golf courses elevates the overall lifestyle for those seeking luxury residences in multiple ways. For golfers, immediate access to the course is a dream come true. For non-golfers, it means enjoying a more picturesque backyard and view, rather than staring at your neighbor's backyard. The serene ambiance, the sense of exclusivity, and the breathtaking views all contribute to a lifestyle that's simply unparalleled.
South Florida's luxury residences near premier golf courses offer a lifestyle that is second to none. As a golfer and a luxury real estate agent, I understand the nuances of this unique market and am here to guide you on your journey to finding your dream home.
Take advantage of October´s LIV Golf Team Championship to visit South Florida and find your next residence. To explore these exclusive properties and experience golfing in style, reach out to me today, and together, we'll turn your vision of South Florida luxury living into reality.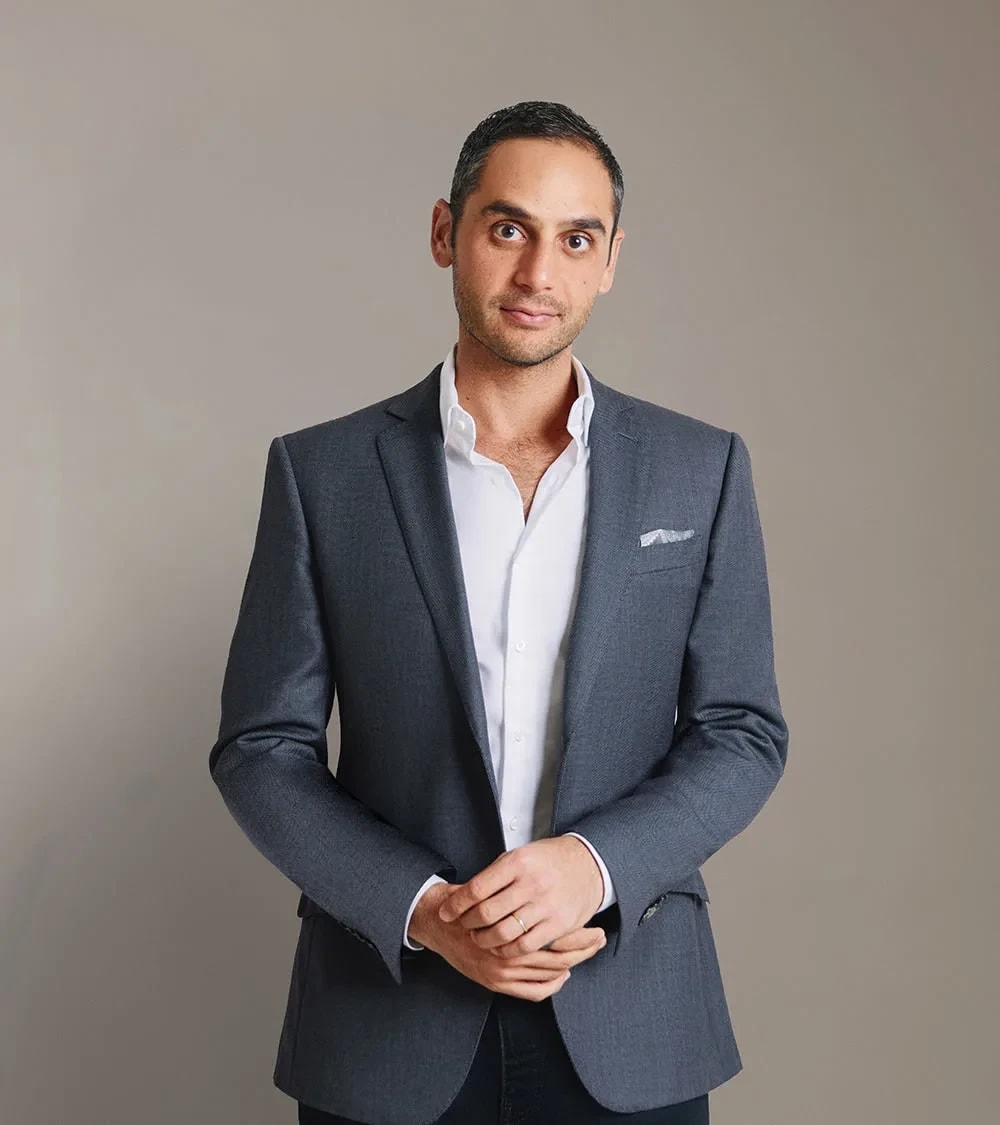 ISAAC LUSTGARTEN
EMAIL: [email protected]
MOBILE: +1 (305) 695-6025
OFFICE: +1 (305) 539-0071
ADDRESS: 1410 20th Street Suite 212, Miami Beach, FL 33139
LICENSE #: 3332063
Isaac Lustgarten is a Miami-based real estate professional specializing in luxury home and condo sales, investment purchases, and real estate management. Originally from Colombia, he moved to Miami at a young age and is one of the leading real estate salespersons on The Alexander Team at OFFICIAL, named the number one team in the country three years in a row by Real Trends & Tom Ferry The Thousand.