The Flemish Renaissance building at 281 Park Avenue South that brought scammer socialite Anna Delvey down is going on the market. The $135 million asking price is more than five times what Delvey was trying to raise to lease the building for her eponymous foundation — an effort that ended up landing her at Rikers. "She had really, really good taste," said Nicole Oge, a founding partner at broker brothers Tal and Oren Alexander's new firm, OFFICIAL, which has the listing for the property.
The landmarked six-story building on the corner of Park Avenue South and 22nd Street was built shortly after the turn of the 20th century, funded by donations from J. Pierpont Morgan and Cornelius Vanderbilt for Protestant missionary work. It has always been an eye-catcher — Jan Broman, one of the founders of Fotografiska, the Swedish photography museum that beat out Delvey for the lease, was smitten after seeing it from the window of a cab — but now, Oge said, it's also an unofficial stop on tour-bus routes thanks to Delvey and Inventing Anna.
In 2014, Aby Rosen's RFR Realty bought the property for $50 million from the nonprofit Federation of Protestant Welfare Agencies, only the property's second owner, which had paid just $910,000 in 1963. The Church Missions House, as it's formally known, was the last major holdout in what was once known as Charity Row. After buying it, RFR did a $30 million renovation, overseen by CetraRuddy with interiors by Roman and Williams, and signed a 15-year lease with Fotografiska in 2017, which put museum space on three floors, the Veronika restaurant on the second, an events space on the top floor, and a private-club bar in the adjacent chapel.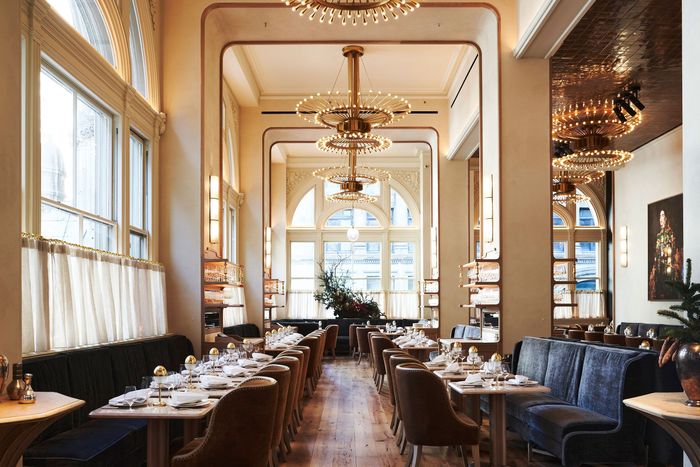 Delvey's vision for the place was somewhat grander: rotating pop-up shops curated by artist Daniel Arsham, exhibitions from the likes of Damien Hirst and Jeff Koons, three restaurants, a juice bar, and a German bakery. She told people that the artist Christo had agreed to wrap the building for its opening. When Delvey learned that Fotografiska was on the verge of signing a lease, New York reported that she was furious: "How do they even pay for that? It's like two old guys."
That Rosen listed the property with the Alexanders' new firm is a little surprising. The brothers are known for closing enormous residential deals — they represented Ken Griffin when he bought the record-setting penthouse at 220 Central Park South for $238 million — but lately they've been branching out: starting their own firm, selling real estate in the metaverse, taking on the occasional trophy commercial listing. And 281 is a trophy, said Oge. "It's the same demographic, mindset, and psychographic," she said of the buyer profile. "That individual could be anywhere in the world and they want the best."
Given that the building sold for $50 million eight years ago, the $135 million asking price seems steep. But a commercial source suggested that 281 Park could conceivably fetch that much, given the quality of the renovation and the decade left on Fotografiska's lease, which probably pays well. (RFR was asking $125 per square foot in 2015, according to The Real Deal, although the number may have dropped closer to $100 by the time Fotografiska signed.) "I can tell you there is nothing like it: the detail, the character, the feeling, the lighting," said Tal, when asked how they'd arrived at the asking price. "You're never going to find a comp to this building."
Even with more (real) money than she's ever (legitimately) had before — a few hundred thousand from selling her life rights to Netflix, the proceeds of her recent NFT sales — Delvey definitely won't be in the running this time. If she ever was — though a former RFR executive helped Delvey secure meetings with big names in the food-and-beverage world to discuss uses for the space, it's not clear if she was ever really on RFR's radar as a potential tenant. When the concierge at the boutique hotel where Delvey was staying told Rosen's son a guest there was leasing 281 from his father, he asked what room she was staying in before dismissing the story. "If my dad has someone buying property from him staying here, would she be in a deluxe or would she be in a suite?"
You can read the article on Curbed herhttps://www.curbed.com/2022/07/281-park-ave-south-anna-delvey-foundation-fotografiska-rosen-rfr.htmle