TOP LEASES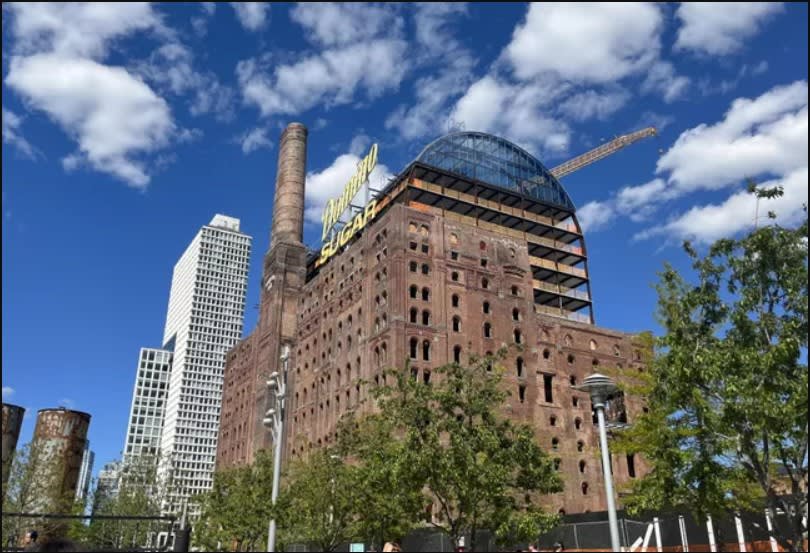 Bisnow/Ciara Long
The former Domino Sugar factory under the final stages of its conversion earlier this year.
Two Trees landed its first tenant in its redevelopment of the former Domino Sugar refinery in Williamsburg, the New York Post reported. Luxury fitness brand Equinox has signed a 42K SF lease for a gym in the building to open next fall. No office tenants have yet signed in the newly finished 15-story, 460K SF adaptable reuse landmarked property, and terms of the deal weren't disclosed. Two Trees bought the property from the Community Preservation Corp. for $185M as part of the developer's $3B investment in the area. Two Trees also has plans for two residential properties steps from the commercial building, adding 600 apartments across two towers rising 52 and 39 stories. Those two properties are expected to open in May, per The Real Deal.
***
A law firm has signed a 30K SF lease renewal and expansion at Fisher Brothers' 605 Third Ave., according to a release. Katsky Korins LLP signed a 15-year lease expansion in the 909K SF property, boosting its footprint by 50% from its current 20K SF to occupy additional space on the 16th and 17th floors. The deal follows Fisher Brothers and its amenity management affiliate, Ease Hospitality, opening an amenity center and events location at the property last year. Fisher Brothers' Marc Packman, Charles Laginestra, Clark Briffel and Josh Fisher brokered the deal in-house for the landlord, alongside Cushman & Wakefield's Bruce Mosler, Lou D'Avanzo, Andrew Ross, Michael Baraldi and Lexie Perticone. The tenant was repped by Indigo Property Holdings' Oliver Katcher.
***
Flex office space provider Regus has renewed its 37K SF lease at 14 Wall St., according to a release. The property was once Manhattan's tallest building and is located across from the New York Stock Exchange and Federal Hall. Asking rents were $50 per SF. Bradley Gerla, Jon Cope, Mike Rizzo and Masha Dudelzak of CBRE repped the landlord, ROZA 14W LLC.
***
Icon Parking Systems has renewed its 56K SF lease at Manhattan House, a 19-story luxury condo and co-op building in Lenox Hill, according to a release. The parking provider has been at the property at 200 East 66th St. since 2008 and is across a single subterranean level of the property, owned by Macquarie Asset Management. Newmark's Brian Ezratty repped the landlord in the deal.
***
Building Service 32BJ Health Fund, part of Service Employees International Union Local 32BJ, is doubling its footprint nine months after first signing a lease at the Kaufman Organization's 22 West 19th St., Commercial Observer reported. The union health fund initially signed for 19K SF at the property but has expanded that to cover a total of 38K SF. The 191K SF property, known as the Cluett Building, has been renovated to improve its lobby and add a tenant entrance. Mark Weiss and Jenna Catalon of Cushman & Wakefield repped the tenant.
***
Online advertising platform adMarketplace has signed for 39K SF at Vornado's 90 Park Ave., Commercial Observer reported. The platform is subleasing from business data analytics firm FactSet in a long-term arrangement for $60 per SF, per CO. The sublease will see adMarketplace relocate from its digs at 1385 Broadway in the Garment District and almost double the size of its headquarters from 22K SF. Official Partners' Tal Alexander and Oren Alexander, alongside Roshan Shah, Michael Gottlieb and Alexis Odgers of Avison Young, repped adMarketplace.
***
Vornado has replaced one law firm with another at 1290 Sixth Ave., The Real Deal reported. Law firm Selendy Gay Elsberg signed for 101K SF on the 18th through 21st floors of the 43-story property. Selendy Gay Elsberg replaces Venable, a firm that had been subleasing 75K SF across the 17th and 18th floors, as well as fourth-floor space, from AXA. The new lease will see Selendy Gay Elsberg let go of the space on the fourth and 17th floors to expand by 26K SF, Commercial Observer reported. Vornado had in-house representation from Edward Riguardi and Ryan Levy, as well as Cushman & Wakefield's Josh Kuriloff and Bruce Mosler. Selendy Gay Elsberg was repped by Colliers' Alex Jinishian and Ted Rotante.
TOP FINANCING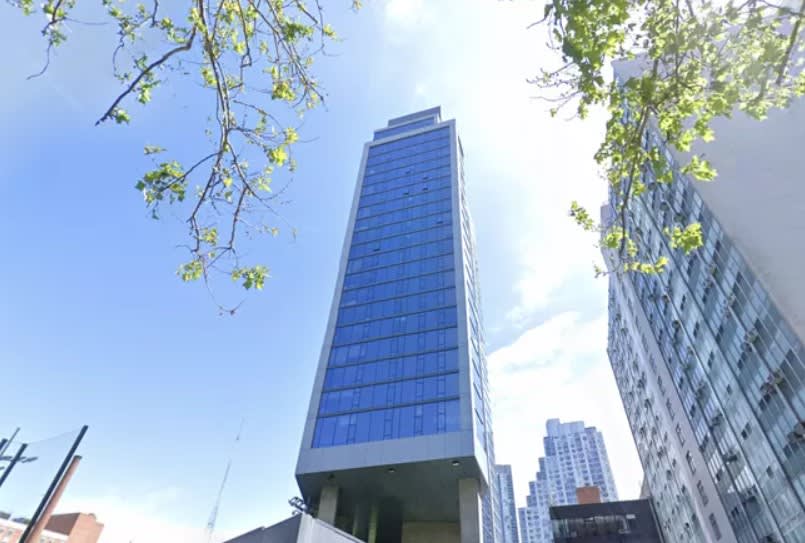 RXR's The Willoughby development at 196 Willoughby St., one of two properties covered by a $225M refinancing package scored by the developer this week.
Apollo Global Management subsidiary Athene Holding has agreed to provide a $225M refinancing package to RXR for two Downtown Brooklyn buildings, including its 196 Willoughby St. development, PincusCo reported. The loan retires a $225.6M sum from TPG Real Estate Partners on the 34-story, 476-unit residential building completed in 2021, and it also refinances the debt on the Long Island University building at 152 Ashland Place, per PincusCo.
***
Developer Avery Hall has nabbed a $72.5M construction loan from TD Bank for a multifamily project in Gowanus, according to a release. The Brooklyn developer scored the deal along with its joint venture partners, Declaration Partners and Bridge Investment Group, through the group's qualified opportunity zone vehicle. The joint venture plans to build a 17-story apartment building at 544 Carroll St. with 133 units, 25% of them reserved as affordable housing, in addition to amenities including a rooftop lounge and a fitness center. JLL's Christopher Peck and Peter Rotchford led a team representing the borrowers for the deal.
***
TF Cornerstone scored a $115M refinancing deal for its commercial condo property at 660 12th Ave. from Wells Fargo, PincusCo reported. The loan retires a $90M sum from Bank of America on the Hell's Kitchen building, which is home to The Glasshouse, a flagship 75K SF event space from developer Jack Guttman's Glasshouses NYC brand. In 2022, it served as the location for the Real Estate Board of New York's first annual gala after a pandemic-induced pause. The 300K SF property is also home to Six60 Twelfth, a 96K office property.
***
Hudson Cos. notched a $72.5M loan from Apollo Global Management for a residential development in East Flatbush, PincusCo reported. The loan covers a 250-unit rental building at 350 Clarkson Ave. known as The Lois, which has amenities including a quiet room, a yoga room and a children's playroom within its eight stories, according to the building's website. The new loan replaces a $63M loan from Wells Fargo.
TOP SALES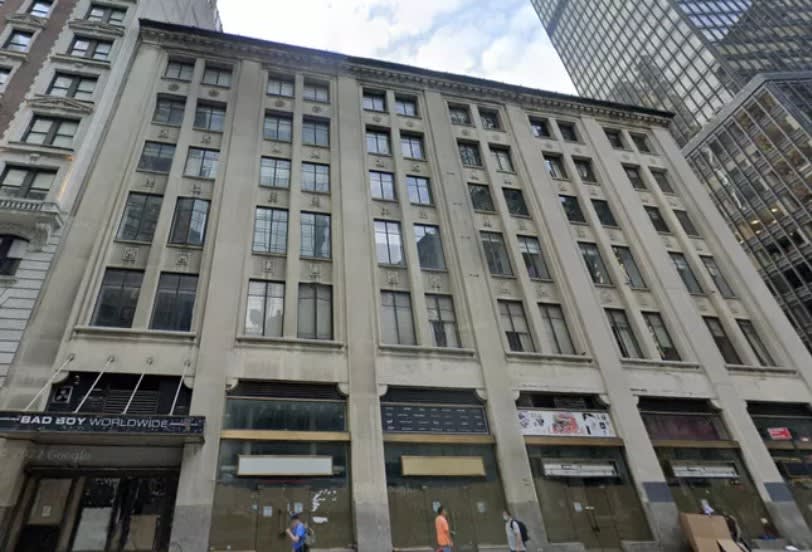 Extell Development's 1710 Broadway, which this week sold for roughly $100M less than Extell paid for it.
Riu Hotel and Resorts has purchased Extell Development's 1710 Broadway, PincusCo first reported. The sale closed for $173M, almost $100M below the $268M that Extell paid for the property in 2017. It also works out as $20M lower than Extell's target price of $193M, The Real Deal reported. Prior to the sale, Extell owned 82% of the property, and it expects to generate $54M in cash from the sale, according to regulatory filings on the Tel Aviv Stock Exchange reported by TRD. Extell filed plans for a 54-story, 673-unit hotel to replace the six-story, 52K SF office property on the site, but those plans haven't yet been approved, according to TRD. Extell had previously tried to sell the property in 2018 after planning a residential development there, but it ended up refinancing with a $124M loan the following year. If Riu pursues Extell's hotel project, it would be its third Midtown hotel.
***
Penske Truck Leasing has snagged a parking facility near JFK Airport in Queens, Crain's New York Business reported. The trucking company paid $25.4M to acquire 145-52 167th St. and 165-17 146th Ave. from Susan Nurge and John Nurge of the estate of Frederick A. Nurge, according to real estate Instagram account Traded.
***
A mixed-use Bronx property has changed hands for $19.1M, according to a release. The 60K SF property at 950 Westchester Ave. spans 12 stories and has 111 residential units, in addition to seven office units and two retail units. An Ariel Property Advisors team of Victor Sozio, Jason Gold, Howard Raber, Shimon Shkury and Daniel Mahfar repped the seller, which the New York Business Journal named as Westchester Intervale LP, an affiliate of Brooklyn Arker Co. The buyer was an entity named Kelly Westchester LLC, a New York-based company that was formed in June.
You can read the article on Bisnow here.